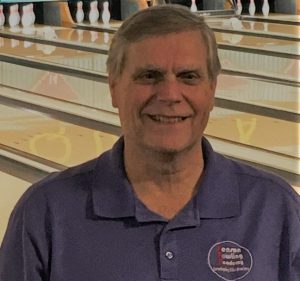 After graduating from Westerville High School in 1970, Bill Henson entered the U.S. Air Force and later The Ohio State University where he graduated with a B.S. degree in mathematics. He went on to earn an MBA from Ohio University in 1999. Bill spent 34 years in the IT industry and retired from IBM in 2007.
Bill began his bowling career at age ten and has been a member of the Professional Bowlers Association since 2002 where he has captured three regional PBA titles and one national PBA title, the 2015 Dick Weber Super Senior Classic in Fort Wayne, IN. In 2011 Bill was inducted into the Central Ohio USBC Bowling Hall of Fame.  He was later inducted into the Ohio USBC Hall of Fame in 2019. He currently competes full time on the PBA50 (senior) Tour.
Bill has also been coaching bowling for over thirty years and is a USBC Silver Trained Instructor. He served as men's bowling head coach at The Ohio State University for eight seasons and a member of the coaching staff at Westerville South High School for seven seasons. Bill is the Director of Youth Bowling at Sequoia Pro Bowl in north Columbus where he also delivers private instruction and runs youth summer camps.